Sankosha joined CleanEx 2018 in UK
2018/04/24 Info
Sankosha joined CleanEx 2018 tradeshow held between 22nd and 23rd of April in Ascot, UK with Parrisianne, the local distributor. We got unexpectedly many purchase orders and inquiries during the show, so Parrisianne and Sankosha are confident we are in the right track and No.1 in the market.
Trade show site: Ascot Race Course
Sankosha-Parrisianne booth
Everyone shows keen interest in Sankosha machines
Visitors are surprised at finishing quality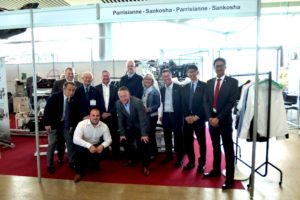 Booth staff are happy with great success.
Back